Our History
April 15, 2014 marked the 100th anniversary of the founding of Acme Brass. The current business has its roots in the Black Forest of Germany. August Hummel learned his craft there as a brass finisher and machinist in the early 20th century. After immigrating to Kansas City, Missouri in 1901, he honed his skills at a local brass foundry and manufacturing business. In 1914, he opened the Acme Brass Machine Works. Truly a family business, Acme Brass has been operated by no less than 4 generations of the Hummel family. Sadly, the year 2001 saw the close of the original Acme Brass & Machine Works and the sale of the building on 17th Street.
In 2006, an opportunity presented itself. With a decline of high quality metal finishing shops across the United States and a rise in demand, Jim Hummel and Steve Gaunt (grandson and great-grandson of founder August Hummel), created a new venture to serve the needs of quality minded people. On December 22, 2006, Acme Brass Custom Plating, Inc. was formed. The new company blends old world traditions with modern technology to provide you with numerous metal finishing solutions, whatever your application.
Acme Brass has participated in the renovation of several of the country's  most prestigious homes, offices, city and civic buildings. Working closely with architects and designers, Acme Brass is qualified to assist in the process of providing unique architectural elements to meet our clients needs. From fabricating custom hardware for the home, to refinishing antique light fixtures and door hardware, Acme Brass can meet your requirements. Trust our creative staff of polishers, platers, machinists and metal smiths to care for your items.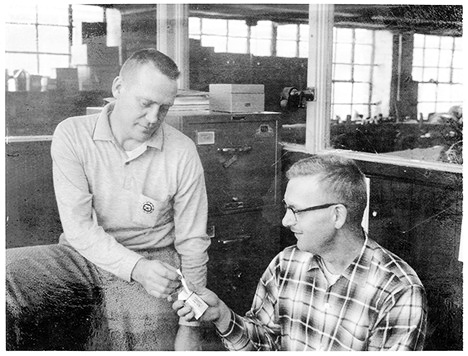 BUD & FRANK HUMMEL, circa 1960